FAQs
Our 16,000 square foot fabrication shop is located in the heart of the San Fernando Valley, giving us convenient access to our various suppliers and customers. Together we work with out customers to realize their design goals and aspirations while staying within buget and time restraints.
Milano Granite leverages design and technology to provide our clients with the most advanced methods in the industry.
View Gallery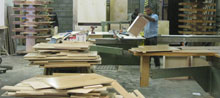 Our custom cabinet material is locally sourced using the highest quality of wood species available to ensure use for years to come. Our cabinets are produced in-house and manufactured with care and quality assurance in mind.
View Gallery
How Do I Place a Countertop Order?
Give us a call when you are ready to replace your existing countertop and we will walk you through the process step by step from choosing the right material specific to your needs to completion of installation. We will come to your house and give you an estimate at no charge to you.
How Do I Place a Cabinet Order?
We will request a meeting with you in our showroom to go over the different options and styles of wood species, door design, stains and finishes. We will arrange to come to your job-site and get an approximate field measurement of the existing space, or new space to be built. When we have gathered as much information as we can from you based on design and size, we will create a 3-D rendering for your review and approval.
How long does it usually take to create a granite countertop?
Marble has both a geological and commercial definition. Geologically, marble is a "metamorphic rock consisting of fine to coarse-grained recrystallized calcite and/or dolomite."
How Long Does it Usually Take to Fabricate a Countertop?
Once you have approved the material and provided a deposit for the job, the standard lead-time is 2 weeks. This time can vary based on the size of the job as well as the availability of the material.
How Long Does it Usually Take for a Kitchen or Bath Complete?
Once you have approved the intended design and materials and provided a deposit for the job, the fabrication and installation takes between 4 to 6 weeks depending on the size of the job as well as the availability of the material.
Where are the Products Made?
We purchase our natural stone slabs from local yards who source the material from places such as; Brazil, Spain, India and Italy. Our Caesarstone is manufactured in Israel and purchased directly from them at the local branch. Our Cantera Stone is imported directly from our quarries in Guadalajara and can take a much longer lead time due to travel and customs. Our cabinets are all manufactured in-house using resources from local distribution companies leaving a much smaller environmental foot-print than our big box competitors.
What is the Best Product for Me?
We will assist you in selecting products that meet both your needs and wants based on our initial design consultation. Here we will provide you with the right information for you to make an educated decision on what is best for you and your family.
Where are you located?
We are located in Van Nuys, near the Court House, with convenient access from the 405 and the 101 freeways.